Beijing time on July 24th, the 8th round of the Chinese Super League competing for the competition. The competition against the Chongqing Liangjiang competition in Shandong will currently start at 18:00. The two sides have now announced the starting lineup!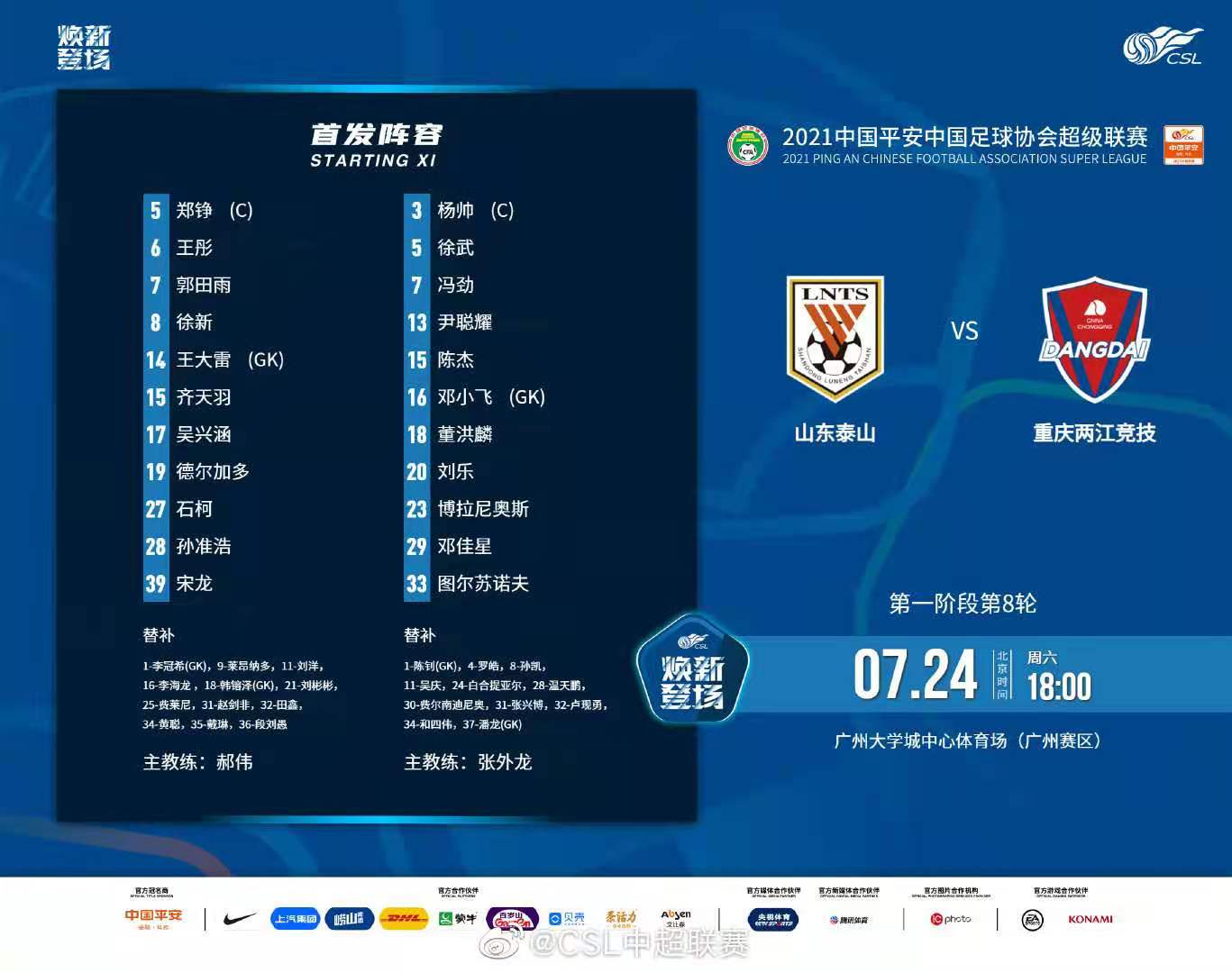 11.jpg \"/jpg\" /jpg \"/jpg\" /jpg \"/jpg\" /jpg \"/jpg\" /jpg \"/jpg\" /jpg \"/jpg\" /jPg \" P>
The first launch of Shandong Taishan: 14-Wang Dalei, 39-Song Long, 5-Zheng Zheng, 27-Shi Ke, 6-Wang Tong, 8- Xu Xin, 28- Sun Junhao , 19- Delgado , 17-Wu Xinghan, 15-Qi Tianyu, 7-Guo Tianyu (U23)
Substitute: 1-Li Guanxi (U23), 18-Han Zeze, 35-Dai Lin, 11-Liu Yang, 16-Li Hailong, 21-Liu Binbin, 31-Zhao Jianfei (U23), 32-Tian Tian Xin (U23), 36-Duan Liu Yu (U23), 34-Huang Cong, 25- Felryi , 9- Leonardo
Chongqing Liangjiang Athletic first launch: 16-Deng Xiaofei, 20-Liu Le, 3-Yang Shuai, 33- Tur Sunov , 5- Xu Wu, 15-Chen Jie, 18-Dong Honglin, 13-Yin Congyao, 7-Feng Jin, 29-Deng Jiaxing (U23), 23- Boranioos
substitute: 1-Chen Zhao, 37-Pan Long (U23), 34- and Siwei (U23), 4-Luo Hao, 8- Sun Kai, 11-Wu Qing, 24-Baihehe Tial (U23), 31-Zhang Xingbo, 32-Lu Saong (U23), 28-Wen Tianpeng, 30- Fernandinho
The referee of this game is Yu Bo, VAR is Wang Zhe. Recently, the rumored rumored Shandong Luneng team captain Hao Junmin has not been on the list of this game. middle!